What an experience!
What an experience! Our first time on the ocean was a trill. Our guide was exceptional. He showed and taught us much about wildlife, scenery, fishing and Prince Rupert past and present. Our son was so delighted to catch his first salmon. He learned what a Tyee was and was given a Tyee pin to mark to occasion. This was a family adventure with lasting memories and one we will repeat. Thanks again.
Alison and Tom, Ft. St. John
We have been fishing …
We have been fishing for many years in many different places. Our annual trip with fathers, grandfathers, uncles and sons has taken us on a string of adventures. This year was our second to Prince Rupert. We came before salmon fishing, enjoyed it and wanted to try our luck at halibut fishing. Fishing and landing a halibut sure is a different experience. What a work out! It's true what our guide said about a sheet of plywood coming up to the surface! It was exciting action once he broke the surface. Never seen a fish hog-tied before, but good thing, I think he may have broken the boat otherwise. Our guide was great. He told us the story of the migrating eye of the halibut. Very cool! We now have booked a trip back to fish for both salmon and halibut.
Allan, Edson
After researching online …
After researching online at first I didn't know which of the many guides to book with, and I have to say that made Foggy Point was a real pleasure to deal with. Talk about professionalism! Margo had all the answers, and helped us through every step of the way, right down to choosing which species to target!
Daryl, Edmonton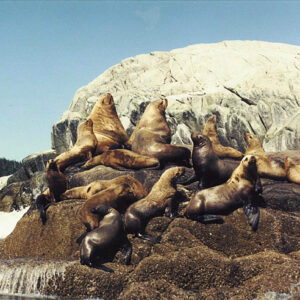 We just came back …
We just came back from a family fishing trip in Prince Rupert. I was nervous about my first ocean fishing experience, and having the right skipper and the right boat made all the difference in the world. I had a chance to fish BOTH salmon and halibut, and even saw a sea lion! The kids had a ball. And we learned so much, not just about fishing, but about the wildlife, First Nations people, and everything. Thank you Foggy Point.
Elaine, Prince George
Foggy Point made it so …
Foggy Point made it so that all we needed to think about was the great fishing experience. What an amazing place you live in. The scenery was beautiful, we even saw whales, and the fishing was unbelievable. I would certainly recommend Foggy Point for anybody who wants an extremely professional, fun and SUCCESSFUL fishing trip. Your guides took care of everything.
Bob and Joan, Edmonton
Thank you for a wonderful experience!
Thank you for a wonderful experience! It was very good. John was an excellent guide. Hope you guys have a great season this year!!!!! Could not have been any better! Thanks again.
Bernie
Thanks again for all your help …
Thanks again for all your help on the filming work with JPS Media Works. As always, Foggy Point was ultra-professional and a real pleasure to work with in hosting visiting travel media. You always seem choose exactly the right guide for each guest. Thanks again!
Bruce, Tourism Prince Rupert
Fishing in Prince Rupert, BC